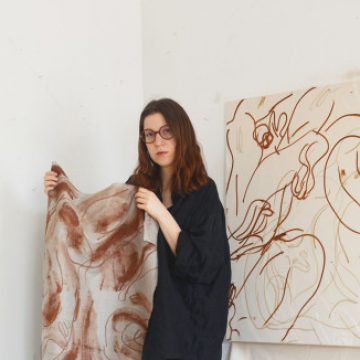 Alina Vergnano (Torino, 1989) is an Italian artist based in Gothenburg, Sweden.
Artist Statement:
My artistic research stems from drawing and investigates its relationship with painting, sculpture, and installation. As drawing allows to capture the transience of ideas and sensations, emotions and obsessions, my aim is to explore its expressive possibilities by challenging what are its traditional forms and boundaries.
The subject of my practice is the world within in its different manifestations as feelings, impulses, memories and dreams. The human figure - either bluntly legible or deconstructed into abstraction - is central to my work, although its repetitive character wants to suggest its function as visual trope more than a finality for representation.
In my work there is no clear narrative, as different moments in time converge and collapse on the bi-dimensional surface. Figures are either intertwined, merged in their complexities or reduced to a single line, as to state the inevitable simplification of the inner persona in the perception of others.
Alina Vergnano's work has been exhibited in international solo and group exhibitions including Galleri Thomassen (Gothenburg, SE), Stene Projects (Stockholm, SE), Galleria Renata Fabbri (Milan, IT), Cabinet Studiolo (Milan, IT), Bricks Gallery (Copenhagen, DK), S.P.G Gallery (Stockholm, SE).