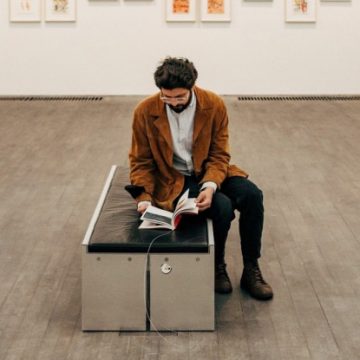 Edson Luli (Scutari, 1989) è un artista contemporaneo che vive e lavora a Milano, il cui lavoro si confronta con la complessa interazione tra ontologia ed epistemologia. La pratica di Luli esplora il rapporto tra osservatore e osservato, interrogando i modi in cui le nostre percezioni ed esperienze sono modellate dal linguaggio e dalla cultura.Al centro del lavoro di Luli c'è una profonda preoccupazione per il ruolo del pensiero nel plasmare il nostro mondo. Attingendo alla sua formazione in Nuove tecnologie dell'arte e in Cinema e Video, il pensiero non è semplicemente un riflesso passivo della realtà, ma una forza attiva che modella e crea il mondo che ci circonda.
Attraverso la sua pratica, Luli invita gli spettatori a partecipare a un processo di esplorazione e osservazione, sondando i confini di ciò che significa pensare e percepire in un mondo complesso e in rapida evoluzione.
Una delle preoccupazioni principali del lavoro di Luli è la questione di come valutiamo la vita interiore degli altri. Attraverso una serie di mezzi di comunicazione, tra cui la stampa, la fotografia, il video e l'installazione, Luli cerca di creare nuovi modi di rappresentare e interagire con la realtà, invitando gli spettatori a confrontarsi con i propri valori e le proprie percezioni per creare uno spazio di esplorazione e interrogazione profonda.
In definitiva, il lavoro di Luli è guidato da un profondo senso di urgenza, in quanto cerca di creare consapevolezza dei complessi processi temporali che danno origine alle nostre percezioni, astrazioni e modelli mentali. Attraverso la sua pratica, Luli offre una potente critica ai modi di pensare problematici e conflittuali che dominano la società contemporanea, invitando a un rinnovato impegno verso l'esplorazione e l'indagine aperta.
/

Edson Luli (b. 1989, Scutari) is a contemporary artist currently based in Milan, whose work grapples with the complex interplay between ontology and epistemology. Luli's practice explores the relationship between observer and observed, interrogating the ways in which our perceptions and experiences are shaped by language and culture.

At the heart of Luli's work is a deep concern with the role of thought in shaping our world. For Luli, thought is not simply a passive reflection of reality, but an active force that shapes and creates the world around us.

Drawing on his background in New Technologies of Art and Cinema and Video, Luli invites viewers to participate in a process of exploration and observation, probing the boundaries of what it means to think and perceive in a complex and rapidly changing world. One of the key concerns of Luli's work is the question of how we evaluate the inner lives of others. Through a range of media, including print, photography, video, and installation, Luli seeks to create new ways of representing and interacting with reality, inviting viewers to engage with their own values and perceptions in order to create a space for deep exploration and questioning.

Ultimately, Luli's work is driven by a deep sense of urgency, as he seeks to create awareness of the complex temporal processes that give rise to our perceptions, abstractions, and mental models. Through his practice, Luli offers a powerful critique of the problematic and conflictual modes of thinking that dominate contemporary society, calling for a renewed commitment to open-ended exploration and inquiry.

/
Luli ha partecipato a: A Glimpse into the Future, (upcoming solo show) Prometeo Gallery Ida Pisani, Milano, 2023; Suspended Verge, Ubicua Gallery, Londra, 2023; War is sweet to those who have never experienced it, Fondazione MACC, Calasetta, 2022; It Begins With you and Me, (solo show), Prometeo Gallery Ida Pisani, Milano, 2021; Corso Concordia 11, Prometeo Gallery Ida Pisani e Via Farini, Milano, 2021; Back and Forth, Again, Black Box Genesis, Vaasa, Finlandia, 2021; Resisting the Trouble – Moving Images in Times of Crisis, VISIO - Schermo dell'Arte, Manifattura Tabacchi, Firenze, 2021; In-Attesa, Prometeo Gallery Ida Pisani, Milano, 2021; A volte penso che..., Prometeo Gallery Ida Pisani, Chiesa di San Matteo, Lucca, 2020; I don't know. Let's see!, (solo show) Prometeo Gallery Ida Pisani. online gallery space, 2020; ARCADIA E APOCALISSE, Paesaggi italiani in 150 anni di arte, fotografia, video e installazioni, PALP, Pontedera, 2019; PASSING, Prometeogallery di Ida Pisani - Collective 62, Miami, 2019: Premio Cairo XX, Palazzo Reale, Milano, 2019; 16a edizione della Biennale Internazionale di Fotografia e Premio "Gjon Mili" a cura di João Ribas, Galleria Nazionale di Kosovo, Prishtina, 2019. Heavenly Creatures - Strategies of Being and Seeing, Kunsthalle West Lana, Bolzano, 2019; Art House School residenza artistica curata da Adrian Paci, Scutari, Albania, 2018; L'Arte nei Pixel. Videoart & Arte Contemporanea, Lucca Film Festival, Lucca, 2018; This Exhibition Will Have a Title Soon (solo show), Prometeogallery di Ida Pisani, Milano, 2017; Watch the Line While Crossing, Prometeogallery di Ida Pisani, Lucca, 2017; Mediterranea 18 Young Artists Biennale, Tirana e Durres, 2017; Media Art Festival, Museo MAXXI, Roma, 2017; 22nd International Onufri Prize, Galleria Nazionale dell'Arte, Tirana, 2016; Artist Talk, COD, Tirana, 2016; Tirana Film Festival, Tirana, 2016; Hotel Europa, Concordia, Exhibition Space Langestraat 56, Netherlands, 2016; Fuori Visioni - Contemporary Art Festival, Piacenza, 2016; Talking About, MM XI, Galleria Nazionale di Kosovo, Prishtine, 2016, Livorno, 2016; Milano Film Festival, Milano, 2015; Future Identities, Laura Haber Gallery, Buenos Aires, 2015; The rhythm of art lies somewhere in between, Bienal del Fin del Mundo IV, Chile, 2015; Hybrid Identities, Contemporary Venice, Palazzo Flangini, Venice, 2014; Pamur, Visual Arts Festival, Tirana, 2014; Black Box, Malaga Home Gallery, Milan, 2014.