Performer, Video artista
Livorno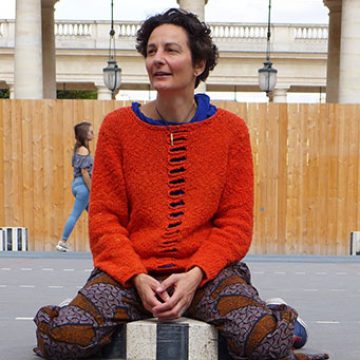 I'll 'speak' english... as it has been my work and research language for a long time. Artist: i've been skirting around this for even longer, poking at it, wondering and wandering. i like filmmaker, i like maker. i like researcher also and i think i can say i am a researcher and a maker too. researcher+maker=artist, makes sense. 
my path is far from straightforward as the dates on my video works show. Over the years my creative and academic research and practice have pointed more and more to play (free play, not games), particularly play as actions towards happiness and togetherness. What  i try to do with my work is attack the many forms of cultural stenosis to which we are accustomed, - especially the deep-rooted idea that some humans are intrinsically superior to other humans (yes, i am queer, an intersectional feminist and a post-humanist), and/or superior beings altogether - with participative playful silly acts of joyful resistance and abandon. 
Here is an outline of that winded path: i studied DAMS in Bologna (Artaud, Duse, the breath and generative materiality of the performer, my core interests), i worked in tv (Rai) in Milan, then in cinema in Rome, Barcelona and Sydney. I learned cinematography with DoPs in italy and then australia, Sydney, where i also went to DoP school and kept on expanding my filmmaking practice. I interspersed these activities with writing and making my own shorts and docos. A few years ago i then focussed on a PhD on playful cinema, started at Sydney University and transferred at the University of Amsterdam, where it's currently ongoing and given my growing artistic practice and its recent osmosis with performance art (both live and video), i'm seeking to hybridise written research with the recording of my practice and process, specifically around the performance project PESCiE and the film project Catalina, which despite being very different projects are both concerned with sabotaging identity through play actions. 
A year ago i started  a practice-based Master in Performative Arts and Collective Space (PACS) in Rome which has been delayed due to the current restrictions and is due to end in June 2021. My goals: to find partners, co-creators and to acquire knowledge of processes/techniques (sound for instance) that interest me, through art practitioners.
At the moment on the table there is also a re-working and developing of a long-term film project, an exciting story-telling experiment: a collection of shorts conceived as forming a collage feature film while also being stand-alone works. Very freely inspired by Catalina de Erauso's autobiography  (the XVII century lieutenant nun), its theme is the absurdity of gender identity and other human failures and cruelties, set against a timeless a-historical backdrop.