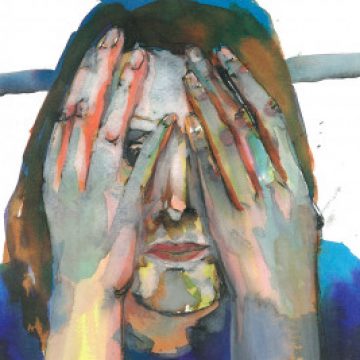 un invito di essere al punto alto osservare il paese, usare nostra forza e mente disegnare, di pingere, sviluppare un passaggio
ELENA OF HESSEN
lives and works in Milan and Capri since 1999
in her works, which are developed above the painting, photography and sculptures, she seeks an explanation in nature and landscape as are forms in the relationships between things. 
Perceiving and taking consciousness are a decisive function. Thus, a tree trunk, mushrooms, branches, rocks, leaves and animals are things that reveal to us in their space dimension an inside and outside. 
When looking at   landscapes,  it takes her discovery or reunion as an  impulse. Thus, the content of space, surface, colors and light in their thoughts is a process  and develops a dream image in the  subconscious. The desire to bring what is seen to oneself and to touch it or form into an object are expression but it also includes the philosophical thought, the world and its existence  are a part of all.

She's born in Kiel/ Germany in 1967.        
In the 1988 she studies History of Art at the "Roger Bevan's Academy of Art",  of London; in the 1989-'90 she attends a "Foundation course" at the "City and Guilds of London Art School", London; in the 1990-'91 she attends a graphic design class at the "Parsons-The New School for Design", New York;
in the 1991-'97 she attends a visual communication class at the "Hochschule der Künste" Berlin with professor Henning Wagenbrecht and Kvetà Pacoska;
in the 1995 she makes the Erasmus Programme at the "Akademie für Kunst, Architektur und Design", Prague; in the 1996 she opens her own atelier in Capri, Naples and in the 1997 she graduates in visual Communication  at the "Hochschule der Künste"  Berlin. Since 1998, the artist has been working both on her own and as consultant in the most various art, design  and visual communication's fields: from the illustration to the graphic design and to artistic production, making design object, packaging,  architektur design and exhibit mountings. The research and the study of the ancient graphic communication techniques influence all the artistic production of Elena von Hessen, who, even exploring new contests and new materials and applying these researches to drawing, will remain tied to a narrative  background. In the 1999 Elena von Hessen moves to Milan to work for the Studio Mendini as designer and opening a her own studio charring with graphic designer and professor Massimo Caiazzo; in the 1999-2011, the artist often works with the group "Collective Intelligence", making creative  performances  tied to the color and with this group, she took part, in 2006, to the  10th Architectural Biennale of Venice, Triennale Milano mostra Essere ben'essere, Color is Music, 

Exhibitions and Events:
 
2020 presentation workshop TMN(the momentary now) Macella Vanzo, lesson performance, Giardini di via Cazzaniga Milano
2019 "eroi allomatici" Galleria Piero Renna, Napoli
2019 "Behaglichkeit" MARS, Fabio Carnaghi, MILANO,
2019 "de colore. di Leonardo", borgo degli artisti,  Barbara Crimella, ; Bienno,
2019 "a perdita d'occhio" ruins contemporaneas", Francesca Conchieri , Valcamonica,
2018  "NATURALISM" soup show con HorazioGioni, galleria Francesco Zanuso  , 
2017 "al fondo della storia" fondazione bussolera branca, , mairano di casteggio
2017 "nel bosco oscuro",galleria Francesco Zanuso,  Milano
2016 "metamorphose" jb-fineart, group show,  Torin
2016  "Anima italiana" solo show, Galerie JB- Finearts, Tesdorfstr , Hamburg
2015  "italienische Aquarelle" solo show, Gallerie Richter, Marc Richter, Lütjenburg 
2014  Vernissage group show curated by Jessica Bauer at via Benedetto Macello private apartment Milano
2013  "zwischen energie und materie" Werkstatt Gallerie, Berlin  
2013 "Elena von Hessen" solo show at the Spazio Juliet of Casier (TV) in collaboration with the Association Juliet (editors of the Juliet Art Magazine)
2012 "Surf" group show at The White Gallery, Milan
2012 "Cosmic Treasures" group show at the Galerie Jb-finearts, Hamburg.
2012 "Happy Heretic Few" solo show at the Teatro Verdi and the Spazio Juliet of Trieste in collaboration with the Association Juliet (editors of the Juliet Art Magazine);
2010 "Senses" group show with performance at the Galleria Erastudio, Milan;
          "Una luce rischiara l'oscuro scrutare", Group show at Uno+Uno gallery, Marco Tagliaferro, Milan;"Feuer Orchester", solo show in private collection, Wien;
"Mk-ultra?" group show at the Galleria Kouros Arte Contemporanea, Aversa/ Napoli;
2009   "Wake up" , group show at The White Gallery, Giovanni Policastro, Milan;
2008   Schloss Fasanerie  of Eichenzell, making a painting for the exhibit "Porträts von Fürstenkindern" Fulda, Germany;
2008   making of an artistic carpet for Tsetan Soman Carpets, via marco polo, Milan;
2007   "La truccatrice" presentation of an illustrated novel at the Spazio Tashidelek,  Milan; 
2006   Exhibit with C.Goedecken, at Collective-Intelligence's studio, Milan;
2005   solo show at the Hotel Ole Liese,  Put Panker, Germany;
2005   group show at the Pankerdesign store, Kiel, Germany;
2004   exhibit of a piece of work to the event  "Essere Benessere" at the Triennale of Milan,  for the event of the Fuori Salone during the Design Week of  Milan;
1999   making of an artistic light installation at the event "Colour is Music", organized by Massimo Caiazzo and Studio Mendini,  Milan;
1998   "Kreuzberger-Bilderbögen" street performance, Chamisso  Platz, Modulor Kreuzberg, Berlin;
1998   group show for the "Open Day"  at the Druckwerkstatt, Künstlerhaus Bethanien, Berlin;
1997   "Souvenir-Souvenir" public action, Pariser Platz, Berlin;
1995   group show at the Galerie Prisma, Berlin;
1989   takes part to the  Summershow, group show at the City and Guilds School, London. 
 
Some artistic works of  Elena von Hessen are made in collaboration with:
Spazio 81, Milan; Giuliano Arte, Corbetta (MI); Atelier Quattordici, Milan; Screenprinting Künstlerhaus Bethanien, Berlin.
 
Publications and Catalog: 
"al fondo della storia" Elena von Hessen, Fondazione Bussolera Branca di Casteggio, 2017
"happy eratic few", Juliet, Trieste, 2012 
Elena von Hessen" Casier, Treviso, 2013

"Wake up" , group show at The White Gallery, Milan, 2009   
"Tip" (1997); "Tagesspiegel" (1997); "Millionenverlag" (1997); "Designers Digest" (1997-'98); "Welt am Sonntag" (2007); "La Repubblica" (2009); "Il Mattino" (4-12-2010); "Corriere del Mezzogiorno" (12-05-2010); "Paint" (February 2011); "Juliet Art Magazine" (January, February, March, April and June 2012).
AA.VV., "Fürstenkinder: Porträts vom 16. bis 21. Jahrhundert im Hause Hessen.", Exhibit catalogue of the exhibition the  Schloss Fasanerie, 2009.
AA.VV., "CZ_VPI2006, Videoperformance&streetart, synaesthetic experiences in the urban scenary", Catalogue made on the occasion of the 10th International Architectural Exhibit, Collateral Events, Biennale of Venice, 2006.