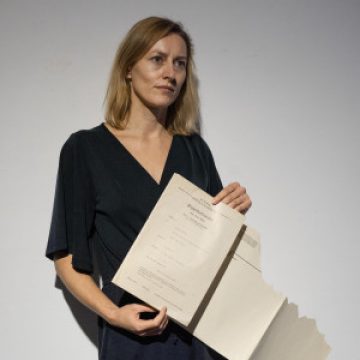 Born in Eastern Germany in 1985, I developed an early interest in changing natural and cultural landscapes. My artistic research aims to investigate what connects us with space and how we constantly create our environment as a mental realm, where encounter is possible, without imposing a static state. My works operate in a fine arts tradition of utilizing scientific methods and visual phenomena conceptually. The works are often transitory and emphasize the experience of transformed material, which allows to investigate the unstable foundations upon which we build our understanding of our place in the world.
My education in the geosciences and professional experience in the aerospace sector has clearly impacted my understanding of our planet and its digital representations. Through the interaction of the observer with his environment using sensorial technologies, I invite my audience to think differently about the movements and changes we witness in our surroundings.
In my sculptural works, I arrange everyday materials into phenomenological configurations. The dynamic dialogue between the objects' three-dimensionality and their surrounding space is established through an intuitive re-purposing of objects. This amalgamates complex systems into a moment of existence, of tangible presence.
I seek out situations and places where human interaction with the environment is embodied in a poetic gesture. As part of the process, I employ drawing and photographic techniques to describe and recompose everyday structures on different temporal and spatial scales.
My series of performance pieces is a result of further research on time and sculpture. They are dedicated to memory as embodied knowledge and based on my interest in social constructionism — the development of jointly constructed understandings of the world. Whereas my own artistic practice acknowledges perceptional correspondence to the world, which emphasizes the impossibility of original meaning and the need to constantly create meaning through individual (visual) experience.
Most of my works enable us to reposition ourselves with regards to the understated quality of (natural) materials. With this, I am also investigating the differences between nonhumanistic perfectionism, that holds that the natural world is valuable and would have value even if no human being existed, and perfectionist beliefs that great achievements in art and science have value beyond any effect that they have on human lives.
As part of my artistic practice, I pursue a critical examination of contemporary issues, from climate policy to digitalization. Although my work is never strictly political, it always plays with conventions and challenges established systems.