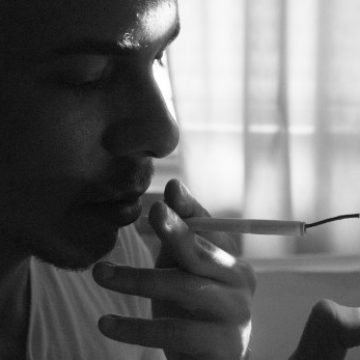 Il mio lavoro si basa principalmente sulla relazione tra le necessità dell'essere umano e la natura. Sono interessato nella mutazione forzata di elementi naturali in relazione ai desideri umani e di come questi cambiamenti permanenti siano connessi alla politica, ricchezza, generi, ruoli sociali e identità, dove gli strati della storia sono determinati da tendenze estetiche. Sono affascinato da elementi quotidiani abbandonati di design, decorazione e varie utilità che un tempo sono stati costruiti a partire da un grande desiderio e poi lasciati in balia del loro destino.
Uno dei temi principali che affronto è la morte e il tempo infinito che ne deriva.
Stefan Milosavljevic
Born in 1992, in Serbia. Lives and works in Vicenza, Italy
it.stefanmilo@gmail.com
www.stefanmilosavljevic.com 
IG - milosavljevic.stefan
EDUCATION
2012 High School Graduation, Boscardin, Vicenza
2016 Bachelor Degree, Academy of Fine Arts of Venice
2016 pause Master in Fine Arts, IUAV, Venice
2015-2016 part of Collettivo Barnum
AWARDS AND DISTINCTIONS
Contemporary Art Museum of Lissone, Milan 2021
Combat Prize Drawing Section , Livorno 2020
Arteam Cup - Special Prize Galleria Punto sull'Arte, Varese, 2018
Premio Rigamonti - Special Prize San Fedele, 2017
Arteam Cup - Special Prize MAC, 2016
1st. Prize Frase Contemporary Art, 2016
COLLECTIONS
Graci Collection
Gerardo Bonetti Collection
Contemporary Art Museum of Lissone Collection 
Frase Contemporary Art
De Pietri Artphilein Foundation Collection
Private Italian, Switzerland and Austrian collections
SOLO EXHIBITIONS
2022 - Guilty Pleasure, Daniele Agostini Gallery, Lugano
2021 - HEY HEAVEN, Daniele Agostini Gallery, Lugano
2021 -
DULCE DE LECHE MUY AMARGO
, The Flat - Massimo Carasi, Milan (MI)
2020 -
AH,
, Daniele Agostini Gallery, Lugano
2017 -
EROE DEL MONDO / HERO OF THE WORLD
, curated by Lisa Andreani, NAM Project Gallery, Milan
2017 -
WANNA FIGHT?
, solo exhibition curated by Matteo Galbiati, Museum of Contemporary Art of Lissone
GROUP EXHIBITIONS
2023
UPCOMING SOLO - Kulturfolger Gallery , Zurich (CH)
2022
EXPERIMENTUM CRUCIS, curated by Rosa Ana Musumeci, Philippe Terrier-Hermann, Ex-Caserma Cassonello, Noto (SR) Italy
FUCKING PRIVATE, Graci Collection, Mantova (IT)
LOVERS IN A DANGEROUS TIME, The Flat - Massimo Carasi, Milan (IT)
2021
FRANCESCO FABBRI FOUNDATION, (finalists) curated by Carlo Sala, Pieve di Soligo (TV)
PREMIO LISSONE 20/21
, Museum of Contemporary Art of Lissone, curated by Alberto Zanchetta(MI)
LET'S MEET ON THE CLOUD OF FREEDOM
, curated by Caterina De Pietri, Choisi - Artphilein Foundation, Lugano, (CH)
PREMIO FRANCESCO FABBRI FINALISTS, Villa Brandolini, Pieve di Soligo (TV)
AN ENDLESS FLOW
, Artemis Gallery, Lisbon
2020
BLING BLING
, Galleria Daniele Agostini
LIFE ON TRALFAMADORE
, The Flat - Massimo Carasi, Milan (MI)
COMBAT PRIZE FINALISTS, Museo Civico Giovanni Fattori, Livorno
NON-GASOLINE STATIONS
, curated by Caterina De Pietri, Choisi - Artphilein Foundation, Switzerland
2019
FRANCESCO FABBRI FOUNDATION, curated by Carlo Sala, Pieve di Soligo (TV)
CENERE
, Galleria Daniele Agostini, Lugano
APPOCUNDRIA
, curated by Marta Cereda, Casa Testori, Novate Milanese (MI)
2018
COMBAT PRIZE, finalists exhibition curated by BlobArt Giovanni Fattori Museum, Livorno
ARTEAM CUP, curated by Matteo Galbiati, Livia Savorelli Fondazione Dino Zoli, Forlì (FC)
I LIED IN A VISA CENTER
, curated by Kateryna Filyuk Gallleria Più, Bologna
TRA LUCE E TENEBRE, Galleria San Fedele, Milan
2017
A HOUSE, HALFWAY
, curated by Andrew de Brún, Inês Geraldes Cardoso, Kateryna Filyuk, coordinator Lorenzo Balbi, Fondazione Sandretto Re Rebaudengo, Turin
E LA LUCE FU, Galleria San Fedele, Milan
MUTATIS MUTANDIS, curated by Lisa Andreani e Arianna Bertolotti, Palazzo Michiel - European Cultural Centre, Venice
2016
100MA COLLETTIVA GIOVANI ARTISTI, curated by Stefano Coletto, Fondazione Bevilacqua La Masa, Venice
THE ELEPHANT IN THE ROOM, curated by Amalia Nangeroni, S.a.L.E. Docks, Venice
ARTEAM CUP, Palazzo del Monferrato, Alessandria
PREMIERE HERODIADE, Gran Teatro La Fenice, Venice, in collaboration with Letizia Michielon
THE LIVING ART, curated by Damiano, Fina Space Shed, Schio (VI)
TO THE WONDER / FRASE CONTEMPORARY ART PRIZE, 1st. prize winner
ENTROPIA, curated by Collettivo Barnum, Cantiere Toffolo & Corte Barlomeni, Giudecca Art Festival, Venice
RISERVE URBANE: LA VERA NATURA, ARTE PUBBLICA E VEGETAZIONI, curated by Silvia Petronici, partner: Fabio Ranzolin, Marostica (VI)
HOPE, curated by Mirella Brugnerotto and Cristina Treppo, Academy of Fine Arts of Venice, Venice ENTROPIA, curated by Collettivo Barnum Exworks, Vicenza